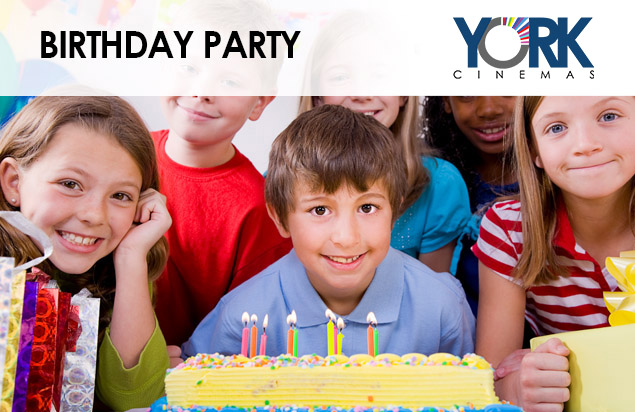 YOUR STANDARD PARTY PACKAGE INCLUDES:
Movie:
Select the latest and most popular movie (not all movies are available at all locations).
Kid's Tray Combo:
What goes best with a movie? Snacks! Each child attending the party receives popcorn, a drink, and a treat.
Popcorn Parties Host:
Your host will meet your birthday group upon arrival at the theatre, take you to your seats, and provide each party child with a Kid's Tray Combo. Your host, if required, will assist in the party room to organize activities for the kids. Minimum one parent or legal guardian must accompany children throughout the duration of the Popcorn Parties and film.
Reserved Theatre Seating:
Sit together in a reserved section of the theatre to watch the movie.
Birthday Child Gift:
Here's a birthday gift from us – 1 free admission and Kid's Tray Combo for the birthday boy or girl!
Party Room:
Enjoy a private party room for 1 hour. You can also serve a birthday cake.
*Birthday Cakes are not supplied by the theatre. Feel free to bring your own cake. Popcorn Parties may vary by location and are subject to change without notice. Package prices already reflect discounted rates. Party packages are only available at theatres equipped with a party room facility.
THINGS YOU NEED TO KNOW...
A minimum of 8 children is required to book a party.
Parties are limited to children 13 years of age and under.
Group sizes are dependent upon the capacity of the party room available for your preferred party date.
Prices do not include adult movie admission or adult food and beverage.
Party package prices apply to children only.
Parties can be requested a maximum of 8 weeks prior to your preferred party date.
Party rooms cannot be rented separately and are only available as part of a birthday party package offering. Ask your local theatre representative about complete details on their party packages. Some restrictions apply, based on individual theatre facilities and party package agreements.
Outside food and beverages are not permitted within the theatre however feel free to bring your own Birthday Cake! We will supply the plates, napkins and cutlery.
Gift cards, Visa and Mastercard and debit cards are accepted as form of payment.
An additional $3.00 admission fee will be charged per child package for digital 3D films, where available.
Please note that films will not be confirmed until the Tuesday prior to your party date. The preferred film of your choice may not be available at your party location. Movie times are scheduled weekly at all of our theatres. As a result, exact show times cannot be guaranteed until the week of your party.
Party packages may not be available during weekdays at some locations
CONTACT US